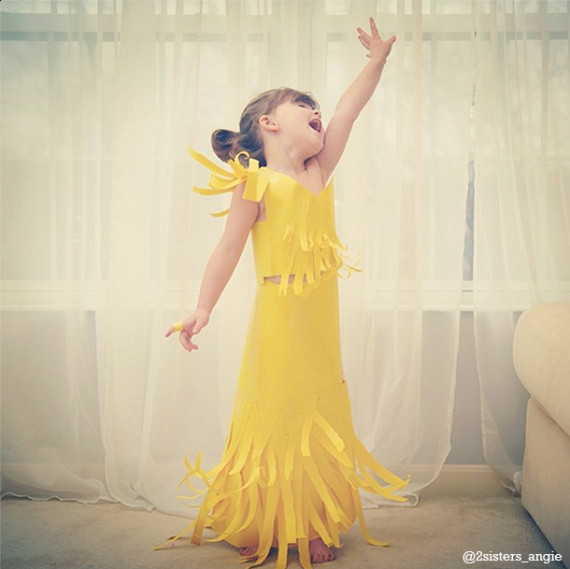 In February of this year, a toddler made the news for recreating red carpet dresses out of paper. This immediately struck me as one of the most brilliant creative ideas ever! What a perfect solution for overcoming the boredom of a young child (or adult for that matter) – catering to their creativity. This 4-Year-Old Makes Paper Dresses With Her Mom — And They Keep Getting More Amazing
Clearly, Mayhem has a propensity for this kind of thing. It is easy to tell she loves these dresses and is a natural at having her photo taken in them.
I admire Mayhem's enthusiasm and her ability to be completely absorbed with the subject of dresses. As a testament to her creativity, it's not just dresses. She is inspired by kites and the Olympics, too.
Probably most at that age (or any age) would have moved on after creating one or two and started some other hobby. Credit is due to Mayhem's mom for endorsing such activities by providing endless supplies of tape and paper (and probably patience). It would be so easy to say "Not now Mayhem, I'm tired".
Now, I notice that all the attention Mayhem has paid to fashion has paid off. StyleWatch posted Mayhem, Instagram's 4-year-Old Fashion Star, Is Now a Designer for J. Crew. The articles says, "J. Crew Creative Director Jenna Lyons has enlisted the tot to collaborate on a new collection for the label's children's line, Crew Cuts."
What?!! Way to go Mayhem! Congratulations.
– More Info –
Artist: Mayhem of Fashion by Mayhem
Genre: Fashion
Instagram: http://instagram.com/2sisters_angie
Website: http://www.fashionbymayhem.com/
Where to buy or purchase: J. Crew